Education
Everyone has a right to a Better Education
With hundreds of thousands of children deprived of basic education, Minhaj Welfare Foundation is providing essential educational equipment and materials to re-establish learning and recreational activities, create safe environments, and help restore a sense of normality. During the Pakistan Floods 2010, some of the educational institutes were destroyed and many more were damaged. MWF is now rebuilding its educational institutes to ensure children from impoverished areas are educated.
MWF is also providing temporary learning spaces for children, whose schools were completely destroyed in the Pakistan floods.
"MWF is working to establish safe areas and to supply educational material for children across Pakistan," said Mr. Dawood Mash'hadi. "The return to school provides an important opportunity for under privileged children to interact, play, rebuild their routines, and provide them a more successful future."
Since 1994, MWF has initiated vast educational programs it has provided necessary school material to children from poor backgrounds that had no access to education before, this has included items such as exercise books, pens and pencils, to cater for more than 150,000 school-aged children. In addition, MWF provided scholarship to more than 2,777 children, they were provided with accommodation, food, educational material for their academic classes.
MWF is raising awareness of its mass education program across South Asia and it is one of the main programs linked towards it 'help us create a safer world' campaign. The children are taught both secular and religious studies.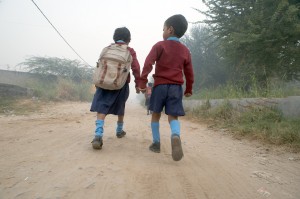 Minhaj Education Society (MES), the education sector of MWF announced over 150,000 children attend schools, including 630 model schools, 08 IT Colleges and 1 chartered university.
Education is an important alternative to child labour and it offers a long term path out of poverty. Millions of children, the majority from poor backgrounds are still denied their rights to go to school. Poor teaching facilities deny many others the opportunity to fulfil their full potential.
Many children around the world are deprived of the basic access to education which has a severe impact on their lives. Minhaj Welfare Foundation builds schools in areas where there is no accessibility to education for children and most importantly focuses on those children that are from poor and vulnerable backgrounds. We hope to build a supportive environment in which the children can develop a better future for themselves through quality education.