Appeal for Zakat

Minhaj Welfare Foundation has planned a grand and prestigious project by the name of Aagosh for the provision of residence, education & upbringing and maintenance of orphan and helpless children. The project would have complete arrangement for the upbringing of 500 children. 50 students are already being looked after in every respect in terms of education, residence and upbringing. The building of Aagosh is under construction, which would have 34 blocks and every block would consist of 50 units. If an individual/ organization wants to finance the construction of a unit, it would be named after his/ her name with a board displayed on it. In the similar way, if you want to reserve a block, a similar board indicating the name of the financer would be displayed.
Those affluent & resourceful individuals who are interested in giving donations to Aagosh for the reservation of an entire block or one or more than one units in the name of their parents, forefathers or spiritual mentors, they can contribute their share to this good work by joining the company of donors through their selection of a unit or block.
Per unit cost is 2000 Euros (Two lac Pakistani rupees)
Account No: 019700 1352-93 03
Zakat & donations can be deposited online or by cheque/ draft in Habib Bank Limited Minhaj-ul-Quran Brach Lahore.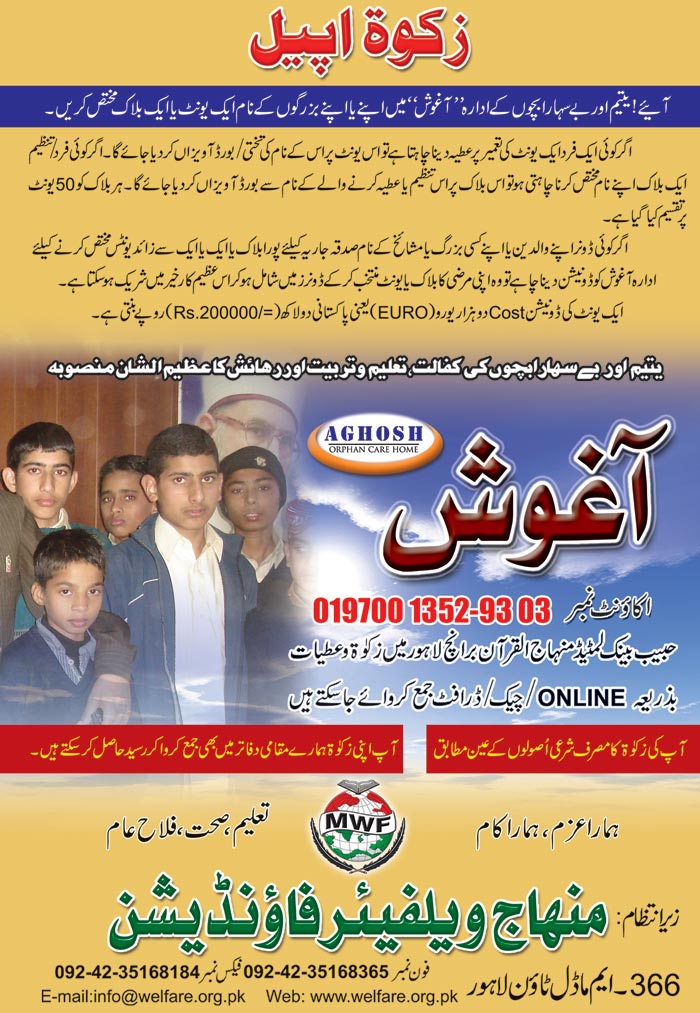 ---
Minhaj Welfare Foundation

365 M, Model Town Lahore, Pakistan
Post Code : 54700
Phone : +92(42)5169111-3, 5171404, 5168365
UAN :
+92(42)111-140-140
Fax : +92(42)5168184
Account # :
Zakat Account No. HBL- 1352-93 Minhaj-ul-Quran Branch (0197)
Email Director : director@welfare.org.pk
Email : info@welfare.org.pk