Collective Qurbani 2017 - Minhaj Welfare Foundation
Arrangements for slaughter of hundreds of sacrificial animals on the occasion of Eid-ul-Adha have been made in Township under the banner of MQI. A modern slaughter house has been set up for this purpose and the sacrificial animals have been brought to the place. The faithful will perform the Sunna of Hazrat Ibrahim (AS) after offering the Eid prayer on September 2.
Syed Amjad Ali Shah, Director of Minhaj Welfare Foundation, visited the central Qurban gah (altar) along with the heads of the administrative committees constituted for the purpose of arrangements. He saw the arrangements such as cleanliness, care, food and security etc. and passed necessary instructions. Khurram Shahzad, Jawad Hamid, Haji Ayub, Manzoor Ansari, Sajid Hameed, Saeed Akhtar and other leaders were present on the occasion.
Talking to the heads of the administrative committees, Syed Amjad Ali Shah informed that arrangements for distribution of meat of the sacrificed animals among the poor and less privileged sections of society have been completed. He said that a team of doctors will also be available for three days of Eid for provision of medical care immediately and the ambulances of Minhaj-ul-Qurna will also remain present.
It is pertinent to mention here that in addition to Lahore, arrangements to offer sacrifice of the animals are being made across the country. The proceeds to be had from the sale of skins of the animals will be spent on the welfare projects under Minhaj Welfare Foundation. More than 10,000 shares will be made in the collective sacrifice, of which booking for 90% shares has been confirmed. More than 200 places have been readied for collective sacrifices around the country. A system of coordination has been set up at the central secretariat for smooth facilitation and arrangements.
Syed Amjad Ali Shah said that it is important to educate the masses about the reality of those collecting hides of the animals. He said that it has been seen that extremist organizations collect hides and it is a major source of their financing. He appealed to the masses to donate hides to such welfare organizations whose services are like an open book. He said that in the educational institutions run by MWF, children belonging to the underprivileged sections of society are imparted free education. He said that Orphan Care Home of international standard has been set up for welfare of the orphan and helpless children. He said that free ambulance service is also being provided to the people and the medical centres are being set up as well. He said that collective marriages and provision of clean drinking water to the people of Sindh province are some of the mega projects being undertaken by MWF. He appealed to affluent sections of society to donate generously for MWF.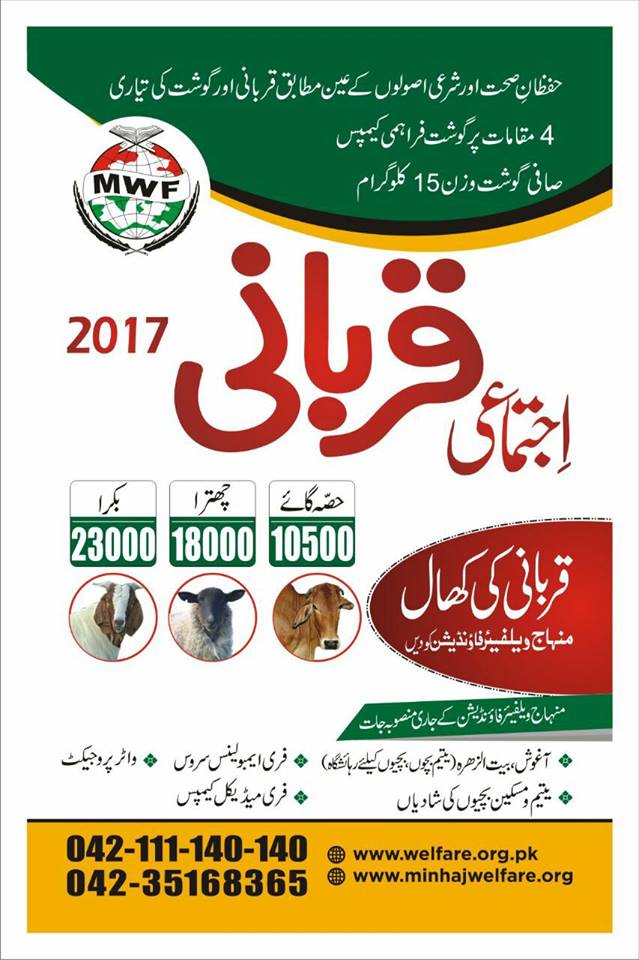 ---
Report - Collective Qurbani 2016 by Minhaj Welfare Foundation