Establishment of Schools and Islamic Centers in Earthquake Affected Areas.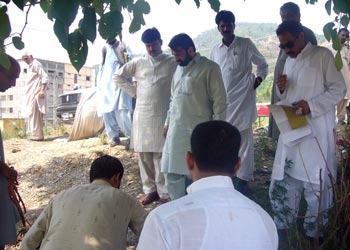 A tremendous earthquake shook Kashmir and neighboring areas on 8 October 2005. For the sake of rehabilitation of the victims, Minhaj Welfare Foundation (MWF) played a major role by providing Emergency aid and arranging rehabilitation of effected using its all human resources. Taking steps to ease the life of the people in the affected areas, it launched welfare projects on a permanent basis. The earthquake disrupted every sphere of life and the education system was no exception. By the destruction of thousands of schools, colleges and universities, the future of hundreds of thousands of students was plunged into darkness.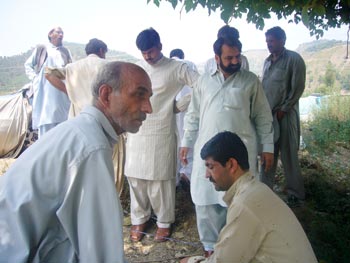 Under the circumstances Minhaj Welfare Foundation decided to set up educational projects for the deprived masses of those districts. With the creation of tent villages in the misery-stricken places, MWF started imparting education to students. Later the Foundation planned to change the temporary schools into permanent ones. But for this purpose a delegation on behalf of MWF visited the areas which suffered from the powerful quake. The delegation's visits helped MWF to buy the land, prepare maps and feasible plans. In this connection a recent delegation of MWF headed by the director of the Foundation Aqil Malik visited the affected areas on 17 June 2007. The team included assistant director MWF Sajid Hameed, civil engineer Mian Muhammad Iftikhar and architect Afzal Gawth.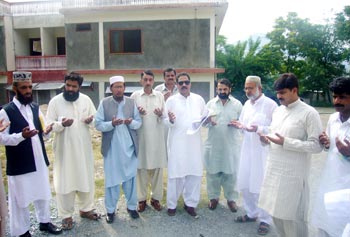 First the delegation set out for NWFP and laid the foundation of a new school plus mosque in Didal Meera, Gharhi Habibullah. On the occasion the delegation expressed hope that the project would be within few months. Later the team visited Muzaffarabad and held a detailed meeting with the office-bearers of the Foundation. For beginning work on the construction of an Islamic centre in the area, the team visited the site and formed a committee for supervising the task. The third project was begun in Patiqa, 25 kilo meters from Muzaffarabad to Athmaqam. This part of Kashmir is located in mountains, which are difficult to travel through. The journey always involves risk of a landslide. Another educational project is being started close to the area where the gate of Pak-India boundaries meets at Pahal, an area of Chakuthi. The delegation completed the five-day tour and reached Lahore on 18 June. The newly started schools and Islamic centers have an important feature that the victims of the earthquake, especially orphans, will be educated and accommodated. This service of MWF will enable them to play a vital role in society.