MWF distributes relief goods of worth Rs. 6 million in Thar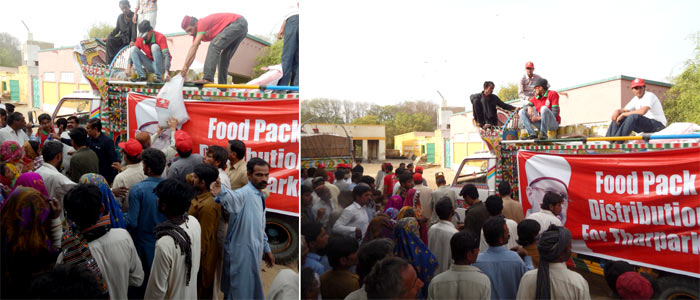 Helping the hunger and drought-stricken people of Thar is our national, moral and religious duty. The federal and provincial governments have committed criminal negligence and are responsible for the crisis that continues to take heavy toll on the poor children in a District where these conditions could have been anticipated and arrangements made in advance to save innocent lives.
On the special instructions of Shaykh-ul-Islam Dr Muhammad Tahir-ul-Qadri, Minhaj Welfare Foundation moved into action mode as soon as the news of tragedy surfaced. It has recently set up relief camps in Mitthi, Mirpur Khas, Digree, Islam Kot, Nanger Parker, and Checchro where the volunteers of MQI, PAT and Minhaj Welfare Foundation are busy serving the suffering humanity irrespective of any discrimination of caste, creed, colour and race.
Relief goods such as water, food grain, medicine, clothes and other necessities of life are being dispatched to far-flung areas of Thar with the help of the people. Minhaj Welfare Foundation has, so far, distributed relief goods of worth Rs. 6 million among 500 Hindu and 500 Muslim families.
These views were expressed by Deputy Director (Operations) of MWF Ain-ul-Haq Baghdadi while distributing relief goods among the affectees. Rafique Najam, Abdul Hafiz Chaudhry, Sayyid Makhdoom Nadim Hashmi, Amir of MQI Sindh, Nadeem Naqshbandi, Riaz Naqshbandi and others were also present at the occasion.
Speaking to the affectees, Ain-ul-Haq Baghdadi said that Dr Muhammad Tahir-ul-Qadri and Minhaj Welfare Foundation would stand shoulder to shoulder with the people of Tahr at this hour of great trial and tribulations. He said that the provisions regarding the government's and the state's responsibility to provide the basic necessities of life to the masses were clearly enshrined in the Constitution, adding that the both the federal and provincial governments failed miserably in the provision of basic rights to the people of Thar. He said that the deaths of hundreds of children due to food shortages and drought were a heart-rending tragedy in the country's history.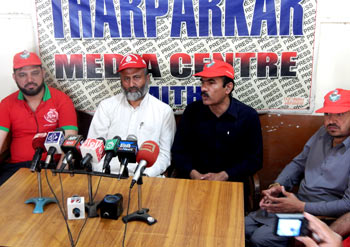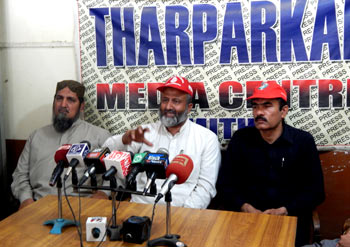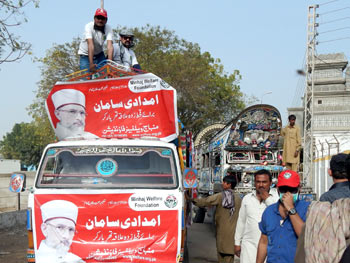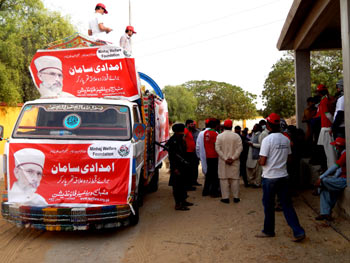 Ain-ul-Haq Baghdadi said that a country of 180 million people was self-sufficient in terms of meeting its needs for food and despite this, tragedy of monumental proportions occurred in our midst. He said that this state of affairs was owed to corrupt system and incompetent politicians who had occupied the state resources. He said that had preemptive arrangements been made, no precious life would have been lost due to hunger and drought. He said that every government that came into power kept the people of Thar deprived of development, which explained why poverty was more rampant in Thar compared to other places in Pakistan.
Ain-ul-Haq Baghdadi said that medical camps were also being established under the banner of Minhaj Welfare Foundation where teams of expert doctors would treat the patients, adding that the Foundation would soon initiate a project of installing water pumps in the affected areas. He demanded of the government to work out solid planning to avoid recurrence of such incidents in future. He said that the provision of basic necessities of life was fundamental duty of the government of the day and it should come good on this constitutional
provision.
Expressing his views at the occasion, the Hindu leader Mr. Nand Lal, worshipper of Sunnet Nano Ram Ashram, appreciated the relief campaign of Minhaj Welfare Foundation. He said that the efforts Dr Tahir-ul-Qadri was making for the welfare of the people of Thar would be remembered in history. He said that the Hindu community paid him glowing tributes due to his services for humanity without any discrimination.